I love vegetarian lasagna however it occurred to me recently I've never made a summer vegetable lasagna.  My usual recipe uses spinach, ricotta cheese and pumpkin which is more appropriate to cosy cooler weather and I decided I wanted a lighter version for warmer nights using seasonal vegetables.
Disclaimer: I'm notoriously bad at layering lasagna so haven't advised exactly how I went about it, mostly because I don't remember and also because the layers were all different and not particularly neat.  It doesn't bother me a bit though as the end result is always bubbling and golden with the flavours and layers all melding together in that gooey, cheesy way and you forget how messy it all was when you were putting it together.  Feel free to be as creative as you like when making your own.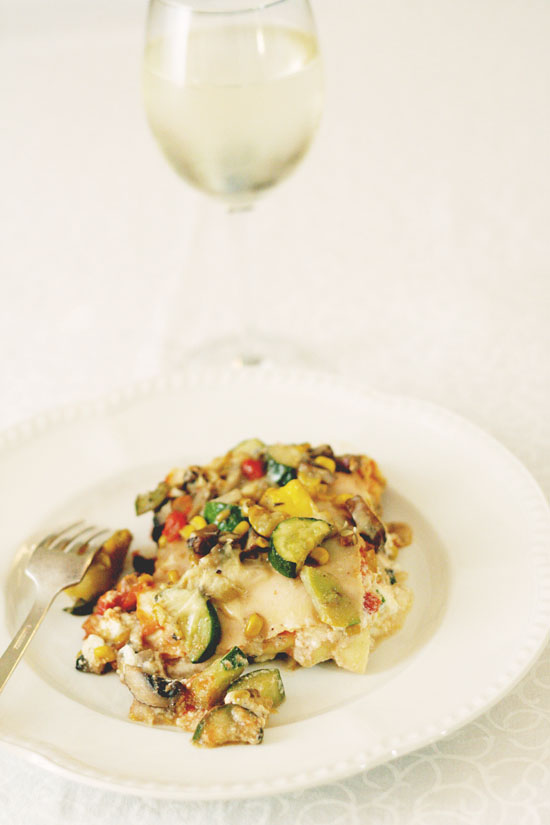 Recipe:
Vegetable layer:
30ml grapeseed oil
1 pinch chilli flakes (not for spiciness, just for a bit of a kick)
3 small to medium zucchini, chopped roughly
2 large yellow squash, chopped roughly
1 red capsicum, diced
120g fresh or frozen corn kernels
400g mushrooms diced in large pieces (I used Swiss browns and field mushrooms; use a substantial type of mushroom)
Marinara sauce:
15mls grapeseed oil
1 onion, diced finely
2 cloves garlic, crushed
1 400g tin tomatoes (organic if you can get them) or 400g diced fresh tomatoes
2 x 20ml tblspns tomato paste
Freshly ground sea salt and black pepper
500g low fat ricotta cheese
120g parmesan cheese, grated finely
4 fresh rectangle lasagna sheets
Preheat oven to 180 degrees C.  Place rectangular lasagna dish on baking tray.  Mine is 28 x 20cm in size.
Add 30ml oil to stainless steel fry pan with deep sides.  Add chilli flakes, zucchini, squash, red capsicum and seasoning for 5 minutes, then add corn and sauté for another 5 minutes, stirring quite often to prevent sticking.  Add mushrooms and more seasoning and sauté until mushrooms are soft but zucchini and squash still brightly coloured.
To make tomato sauce – add onion and garlic to 15ml oil and sauté on low to medium heat with lid on until transparent.  Add tomato paste, tinned or fresh tomatoes and seasoning and simmer on low to medium heat covered until thickened, around 20 minutes.  Make sure to stir occasionally.
Add 1/3 of the parmesan cheese to the ricotta and mix until combined.
Place a couple of spoonfuls of tomato sauce on base of lasagna dish and spread out evenly.  Layer over lasagna sheets (trim if necessary, I hate those end bits of dry lasagna), sautéed vegetables, tomato sauce and ricotta cheese.  I ended up with the vegetables on a lasagna sheet as the last layer then sprinkled the parmesan cheese over the top so it became a sort of open-faced lasagna (this wasn't intentional, it's just how it ended up).  I also use a slotted spoon for the sautéed vegetables as there was a bit of liquid in the bottom of the pan.
Place a sheet of foil loosely over the lasagna and bake for 20-25 minutes.  Remove foil, increase heat to 190C then continue to bake for another ten minutes, until lightly golden and bubbling.
Serves: 6 with a salad and 4 as a main meal
Note: Marinara sauce can be made a couple of days in advance