I made this pretty treat served with a decadent, sweet sauce for a weekend breakfast, a little while back.  The waffles are a bit softer than usual and the texture is pleasingly light, fluffy and nutty with a slight spicy flavour.  This will be a regular waffle recipe in our house from now on.
Spelt is considered an ancient grain, related to the wheat family but reacting differently to normal wheat flour when baked.  There seems to be some controversy surrounding the issue of wheat intolerance, or whether people with wheat intolerances can tolerate spelt (but then where would we be without controversy regarding food these days?!).  If any readers are more directly experienced with this, I'd love for you to let me know out of interest.
I was really pleased with the light results using wholemeal spelt flour; for some reason I'd always thought it would be heavy but this isn't the case at all.  And I'm nothing if not versatile; if you don't have a waffle maker handy, you could always use this batter for pancakes as waffle batter is basically pancake batter anyway.  You could also adapt the fruit sauce by using other seasonal fruit – apples or pears would work really well I think, but you'd need to cook them a bit longer.
I felt one waffle per person was hearty enough using this recipe, so if any of you are being particularly health conscious, this would be the breakfast for you and/or your family.  It's full of good energy, is lovely and bright looking and will keep you lively until lunch time.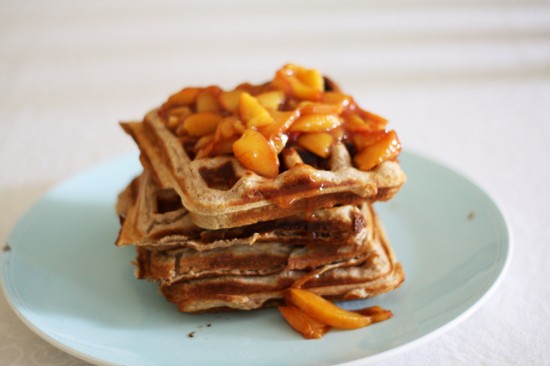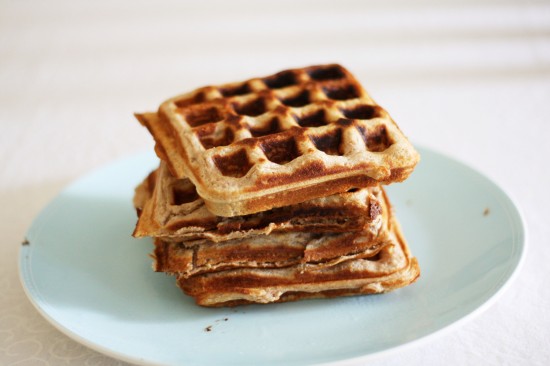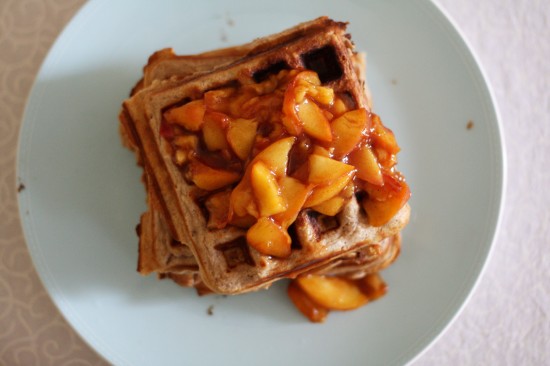 Recipe:
1 cup wholemeal spelt flour
3/4 tspn mixed spice
2 tspns baking powder
1/4 tspn fine sea salt
2 x 15ml tblspns raw caster sugar
60g walnuts, toasted and chopped
1 large egg, at room temp
250mls buttermilk, left at room temp for 10 minutes
28g unsalted butter, melted and cooled
1 tspn maple or vanilla extract
Nectarine sauce
4 medium sized nectarines, sliced thinly
4 x 15ml tblspns rice malt syrup
1 tspn vanilla extract
1 x 20ml tblspn cornflour
1 tspn cinnamon
1/2 tspn mixed spice
In a large bowl sift then whisk together the dry ingredients and add the nuts, tossing gently.  In a jug, whisk together the egg, milk, butter and extract.  Add the wet mixture to the dry mixture and stir until just combined.  Allow to sit for 10 minutes or so (I usually do this while the waffle maker is heating up).
Spray the waffle grid with non-stick oil spray then heat on "3" or the middle setting until the light/beep indicates it's ready.  This mixture was the perfect amount for my 4 waffle iron but this will depend on the type you have.
Pour the mixture carefully onto the grid – I use a heat-proof spatula to smooth out the mixture quickly before the waffles start cooking.  Close lid and bake until your waffle maker indicates they're ready, or until waffles are brown and crisp.   I used an egg flip to gently move the waffles onto a plate.
Serve with nectarine sauce
Nectarine sauce
Mix cornflour with 40mls water until smooth.
Place the remainder of the ingredients into a medium sized, heavy based saucepan and heat on high for 30 seconds until the brown rice syrup becomes more liquid then mix in the cornflour mixture until combined.
Turn heat down to low-medium for 3-4 minutes and stir until nectarines are tender and sauce has thickened and is bubbling.  Keep an eye on it as it doesn't take long.
Serves: 4 (1 waffle per person plus sauce)
Note:  I found spelt flour from my local health food store.