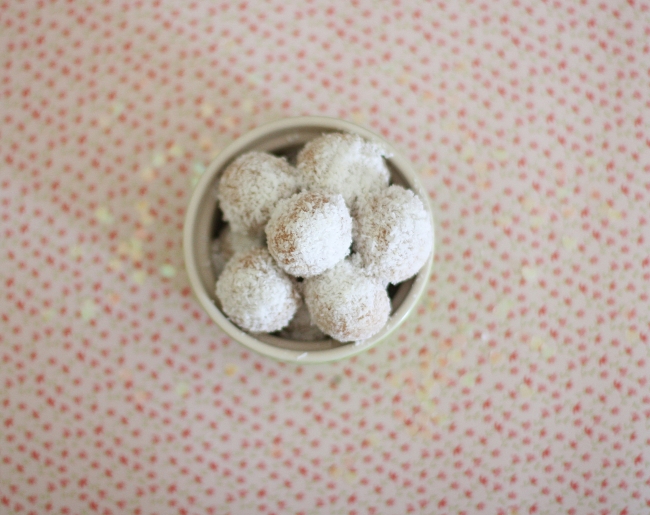 These creamy, fudgy truffles were so sweetly delicious.  I originally made them for my in-laws but have eaten a few so will probably have to make more … oops.
They're perfect for gifts for your loved ones with a sweet tooth and are very simple to make.  There isn't really an intense pineapple flavour but the addition of diced, glace pineapple does add a pleasing texture.
The recipe called for a tablespoon of Malibu, although I'm sure you could leave it out if you didn't want to buy a whole bottle.  Buying it reminded me of high school and end of year parties when I thought the height of sophistication was Malibu and pineapple juice (psst. I still do secretly.  Some things never change).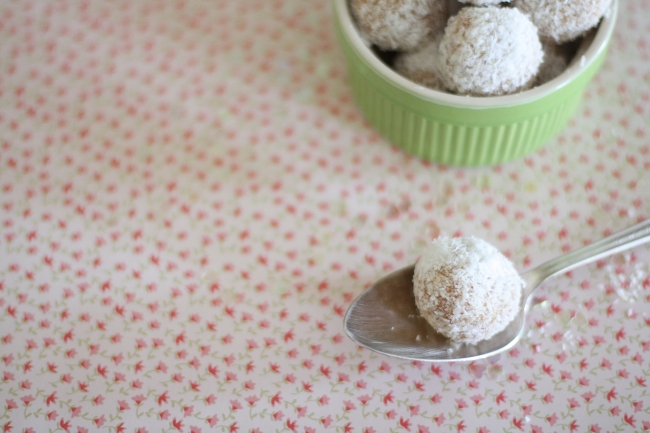 Recipe:
1/4 cup double cream
250g good white eating chocolate
1 tspn vanilla extract
1/3 cup finely chopped glace pineapple
1 x 20ml tblspn Malibu
200g White Chocolate or Milk Chocolate Melts
3/4 cup desiccated coconut
1/4 cup macadamia nuts, finely chopped (optional)
Combine cream, chopped chocolate and vanilla in heatproof bowl over small saucepan of simmering water, sir over low heat until smooth.  Stir in pineapple and Malibu (and macadamia nuts if using).  Transfer mixture to small ceramic or plastic bowl, cover with plastic wrap and chill for a few hours or overnight.
Place baking paper onto a flat baking tray.  Roll rounded, heaped teaspoons of mixture into balls, placing each one onto the baking tray.  Refrigerate until firm.
Meanwhile melt chocolate melts and allow to cool.  Place desiccated coconut onto a plate or flattish bowl.
Working quickly, roll balls in melted chocolate then coconut.  Place on tray lined with baking paper; immediately refrigerate truffles until firm.  Once firm, place in an airtight container to store in the fridge.
Makes: 12-18, depending on the size
Adapted from: Women's Weekly Christmas & Holiday Entertaining