I have a fondness for baking muffins I have to admit, as naff as it's probably considered in this time of more fancy desserts.  In a matter of minutes you can have a warm-from-the-oven little baked treat using ingredients you have on hand and the add-ins are so versatile.
For a sweeter muffin using this recipe, I used white chocolate, raspberries and macadamia nuts however …. if you crave a more, shall we say, sophisticated muffin to have with a strong cup of coffee, then use instead; dark chocolate, mixed berries and walnuts.  Think Charlotte -v- Samantha re: SATC and you'll get the idea.
I've baked both flavours in the last few weeks and they were a hit.  So go ahead and treat yourself –  Christmas may be coming up but that's no reason not to look after yourself.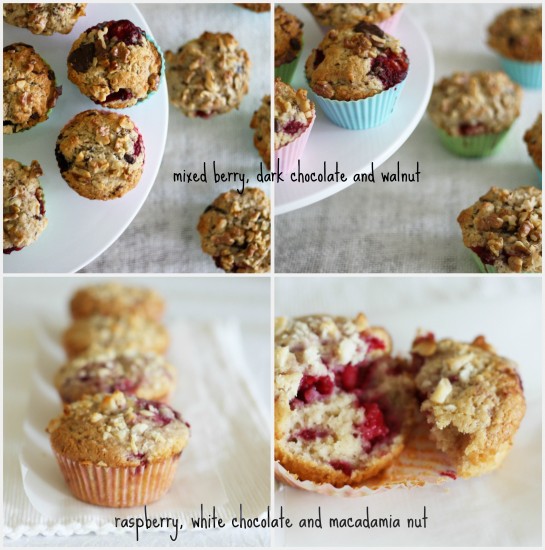 Recipe:
2 cups self-raising flour
1/4 tspn baking powder
3/4 cup raw caster sugar
75g white chocolate OR dark chocolate, diced in small pieces
1 cup raspberries OR mixed berries
1 egg
1 tspn vanilla extract
1/2 cup grapeseed oil
3/4 cup buttermilk or organic soy buttermilk (see below for instructions)
40g coarsely chopped macadamias OR walnuts
Preheat oven to 180 degrees C ( fan forced).  Either grease tins in 12 cup muffin tray or add cupcake liners.
Pour just under 3/4 cup of soy milk into small container.  Add small splash vinegar or lemon juice and leave to sit for 10 minutes.
Lightly whisk in jug; egg, vanilla extract, oil and soy buttermilk until combined.
Sift flour, baking powder and sugar into bowl – whisk until combined.   Add chocolate and berries and combine with wooden spoon until coated with flour (this will stop them sinking to the bottom during baking).
Pour wet ingredients into dry ingredients and mix with wooden spoon – only until just combined.  Don't over beat.
Using two spoons, place mixture into greased muffin tins or liners.  Sprinkle nuts on top of muffins.
Bake for 25 minutes or until lightly browned and tops spring back when pressed.  Leave in tins for 5 minutes or so then place onto baking rack to cool.
Servings: 10 decent sized muffins or 12 regular sized