So I made some sweet, pretty cupcakes today in memory of my maternal grandmother and aunt, both of whom died very young of this disease, and for all the other people who've experienced breast cancer, either directly or indirectly.  My love goes out to you.
The classic buttercream icing was easy, brightened up by a splash of strawberry flavouring and pink food colouring and teamed well with these lovely little cakes by Martha Stewart.  They're moist, soft and full of fresh lemon flavour.
I think the cakes would also be lovely with just a dusting of icing sugar and a cup of tea to be perfectly honest, a bit like a friand.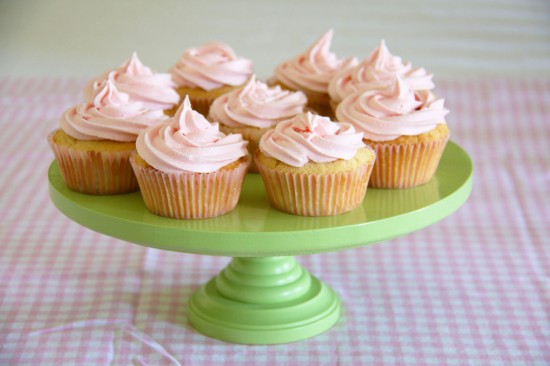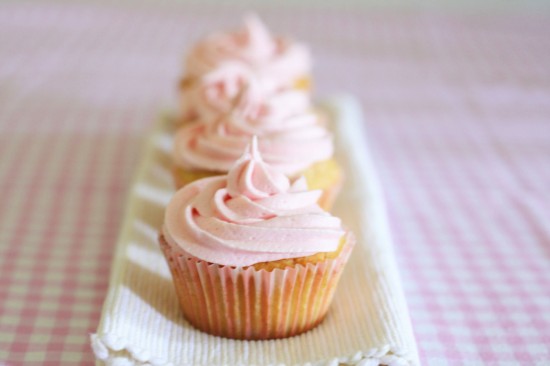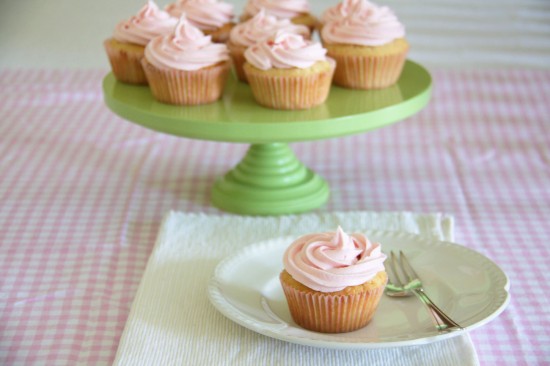 Recipe:
1 1/2 cups plain flour
1 1/2 tspns baking powder
1/4 teaspoon salt
1/2 cup unsalted butter, softened at room temperature
1 cup raw caster sugar
2 large eggs at room temperature (59g whole weight)
Finely grated zest of 2 small lemons
1 x 15ml tablespoon fresh lemon juice
1/2 teaspoon pure vanilla extract
1/2 cup buttermilk
Preheat oven to 180C.  Line 12 cup muffin tin with cupcake liners.
Sift flour, baking powder, and salt into a medium sized bowl.  In larger bowl, cream butter and sugar on medium speed with electric mixer until light and fluffy.  Add eggs, one at a time, zest and vanilla, beating for a minute or so after each egg – use spatula to scrape down sides of bowl occasionally.  Add flour mixture in three batches on low speed, alternating with buttermilk and lemon juice in two batches, beating briefly after each addition – don't over-beat.
Divide batter evenly among liners.  Bake for 22-25 minutes until golden brown and tops spring back when pressed and/or a skewer inserted in centre comes out clean.
Cool cupcakes in tins for 5 minutes or so, then remove onto wire racks to cool completely.  When cupcakes are completely cool, ice with buttercream icing.
Uniced cupcakes can be stored in an airtight container at room temperature, or frozen up to 2 months, wrapped in plastic wrap and stored in a flat freezer container.
Makes: 12
Adapted from: Martha Stewart
Strawberry buttercream icing:
1/2 cup (1 stick) unsalted continental butter, softened
4 cups icing sugar, sifted
1/4 cup milk
A few drops natural strawberry flavour (to taste)
A few drops natural pink colouring (to desired colour)
Place butter, icing sugar, milk, flavouring and colour into a large mixing bowl.  Beat on low speed to incorporate briefly, then on medium speed until smooth and creamy, for 5 minutes or so, or until icing is thick, fluffy and of good spreading consistency.
Use and store the icing at room temperature because icing will set if chilled.  Icing can be stored in an airtight container for up to 3 days.
Serves: I halved the original recipe and to be honest, you could probably halve this recipe because I had heaps left over after icing 12 cupcakes
Adapted from: Magnolia
Note: I found the natural food colouring and flavouring from my local supermarket.