I made a batch of waffles for breakfast this morning, using this simple recipe with a couple of adaptations.
Nothing fancy required yet they were perfectly fluffy inside and crisp on the outside as waffles should be; the mixture made the perfect amount for my waffle maker (I really hate it when the mixture slops over the edge and you have to clean it) and they tasted lovely with some butter and maple syrup.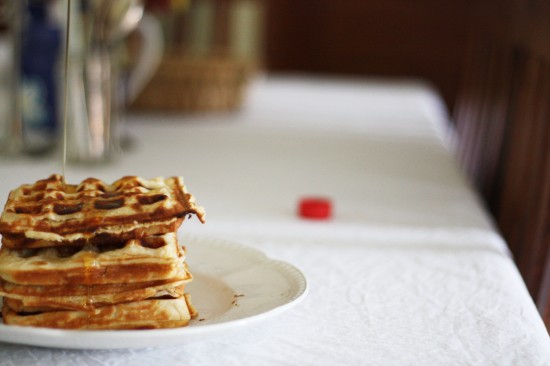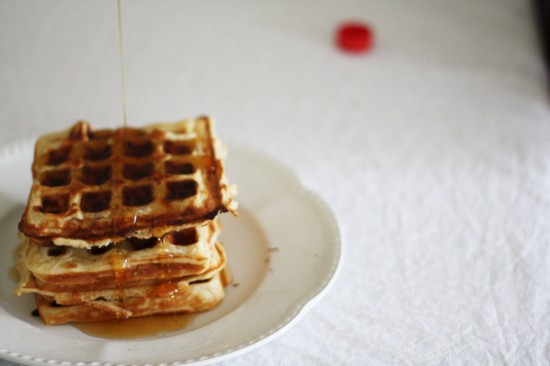 Recipe:
1 cup plain flour
1 1/2 tspns baking powder
1/4 tspn fine sea salt
1 1/2 x 15ml tblspns raw sugar
1 large egg, at room temp
1 cup buttermilk, left at room temp for 10 minutes
2 x 15ml tblspns or 28g unsalted butter, melted and cooled
1 tspn maple or vanilla extract
In a large bowl sieve then whisk together the dry ingredients.  In a jug, whisk together the egg, milk, butter and extract.  Add the egg mixture to the flour mixture and stir with wooden spoon until just combined.
With my waffle maker, I spray the grid with non-stick oil spray then heat it until the light/beep indicates it's ready.  This mixture was the perfect amount for my 4 waffle iron but it will depend on which brand you have obviously.  I used the "3" or middle setting as these waffles become quite browned on the outside.
Pour the mixture carefully onto the grid – I use a heat-proof spatula to smooth out the mixture quickly.  Close lid of waffle iron and bake until your waffle maker indicates they're ready, or until waffles are brown and crisp.
I used an egg flip to gently move the waffles onto a plate.
Use whatever topping you like – butter, maple syrup, ice cream, berries, bananas, chocolate sauce, bacon, eggs.
Makes: 4 waffles
Adapted from: joyofbaking