I thought I should make a warm, cosy dessert before winter's over.  Our late season pears were perfect for this luscious, sweet, super easy dish.
Although the pears take some time to cook, and are a teeny bit awkward to eat (they can slide around on the plate), this would be an elegant dessert for a lunch or dinner party.
Besides, I can't imagine anyone minding chasing around their dessert so they can get to that fresh pear covered with buttery, caramel sauce with a subtle hint of vanilla (and they're so cute, all perky and happy on the plate – look!).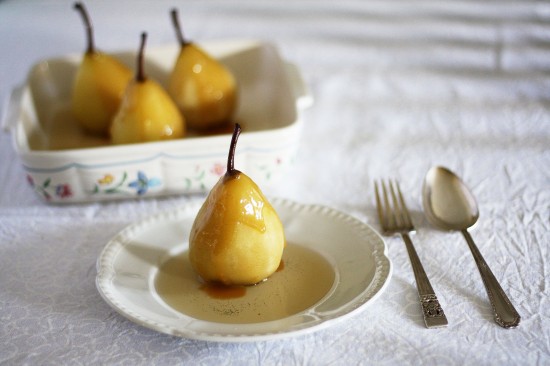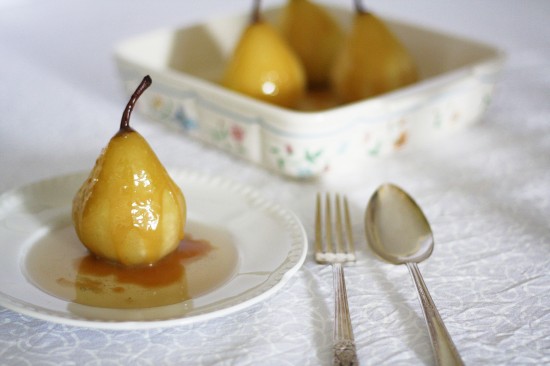 Recipe
4 whole ripe pears
Juice from half a lemon
1 cup raw caster sugar
1.5 tspns vanilla bean paste or one vanilla bean
Butterscotch sauce:
30g unsalted butter or cooking margarine
1/2 cup brown sugar, packed
2 x 15ml tblspns golden syrup
140mls heavy cream
Peel each pear from stem down.  Rub each pear with lemon juice to avoid browning while peeling the remaining pears.
Place raw sugar and 3 cups water in a saucepan over medium heat and stir until sugar has dissolved.
If using the vanilla bean, slice the pod down the centre and scrape the seeds out with a knife.
Add pears and vanilla paste or vanilla seeds to the sugar syrup.  Cover the pan with a sheet of baking paper and allow the pears to simmer in the liquid for 20-25 minutes or until tender (this will depend on the size and ripeness of the pears), making sure to turn them regularly.  Remove the pears from the saucepan to a serving dish, reserving some of the poaching liquid.
Towards the end of the pears cooking time, whisk the butter, brown sugar, golden syrup and cream in a small pan over low heat to combine.  Increase heat to low/medium then simmer, stirring occasionally, for 5-7 minutes until smooth and dark golden, making sure to stay close to keep an eye on it.
Serve the pears in bowls with some of the reserved vanilla sugar syrup poured over, then pour over the butterscotch sauce.  We served ours with some vanilla ice cream but you could also try custard or cream.
Serves: 4
Adapted from: BBC good food