It seemed like a good time to bake something simple and wholesome this morning.  It's warmed up slightly in this part of the world and the sun is shining through our windows.
I've felt a bit stressed lately, feeling things are out of my control and not sure how to handle it.  But still, such a beautiful day lifted my spirits and baking even more so.
I loved the flavour of these muffins from Nigella – the maple is subtle yet really enhanced by the nutty, fragrant pecans.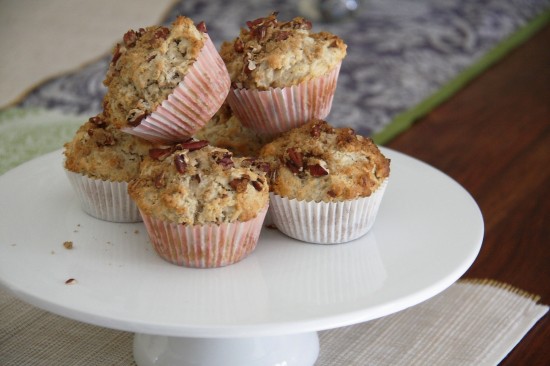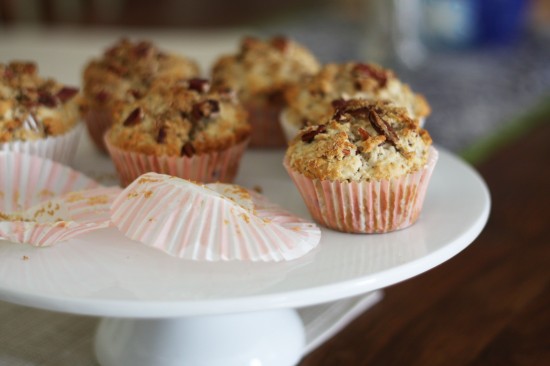 Recipe:
125g toasted, coarsely chopped pecans (reserve 1/4 cup for topping)
1 1/2 cups plain flour
3 tspns baking powder
1 scant 1/2 cup wheat germ
1 large egg
1/2 cup buttermilk
1/2 cup maple syrup
1/2 cup grapeseed oil
1 tspn vanilla extract
1 x 20ml tblspn brown sugar
Preheat the oven to 180 degrees C.  Place muffin cases into 12 cup muffin tin.
In a large mixing bowl, combine 3/4 of the pecans with the sifted flour, baking powder and wheat germ.  In a medium jug or bowl, whisk the wet ingredients until well combined.
In a small bowl, toss the 1/4 cup reserved pecans with the brown sugar and set aside.
Pour the wet ingredients into the dry and fold gently – don't over-beat.  This is quite a dry mixture which I wasn't expecting, but then I realised it was the wheatgerm – wheatgerm, being high fibre, tends to suck up moisture really easily.
Spoon the batter into the muffin cases and top with the pecan/brown sugar mixture – press in slightly.  Bake for 20-22 minutes or until tops spring back when pressed and muffins are light golden.
Cool in the muffin tin for 5 minutes before transferring to a cooling rack.
Makes: 10-12, depending on how large you like them
Adapted from: food.com