I spied this loaf recently on a lovely blog called FoodBabbles.  It's an Ina Garten recipe (I love her!) and I decided to bake it for afternoon tea on the weekend.
I've made lemony baked goods before but have never tried a lemon syrup poured over – it really is gorgeous.  This is a really moist cake and the zesty lemon soaked, soft crumb pairs really well with the sweet berries.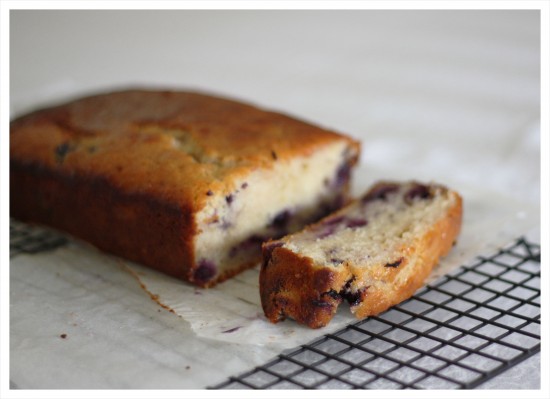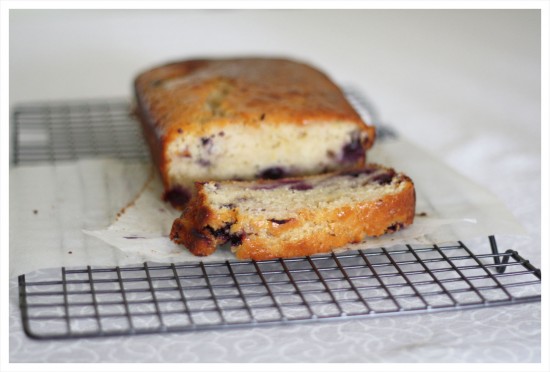 Recipe:
1 1/2 cups plain flour
2 tspns baking powder
1/4 tspn salt
1 cup Greek yoghurt, sour cream or Crème Fraîche
1 cup raw caster sugar
3 large eggs
2 tspns grated lemon zest (approximately 2 lemons)
1 tspn good vanilla extract
1/2 cup grapeseed oil
2 cups blueberries
40mls freshly squeezed lemon juice, strained
2 x 15ml tblspns raw caster sugar
Preheat the oven to 180 degrees C.  Grease 20cm loaf pan and line the base and sides with baking paper; allow some baking paper over the sides of the pan for easier removal after baking.
Sift flour, baking powder and salt into a large mixing bowl.  Toss the berries through the dry mixture.
In a jug, whisk the yogurt, sugar, eggs, lemon zest, vanilla and oil.  Fold the wet ingredients into the dry ingredients until combined.
Pour batter into the prepared pan and bake for 40-45 minutes, or until a skewer inserted into the center of the loaf comes out clean.
Over low heat, simmer the 40mls lemon juice and 2 tablespoons sugar in a small pan until sugar dissolves completely.  Set aside.
Remove the cake from the oven and allow it to cool in the pan for 10 minutes before turning out onto a cooling rack, then place cooling rack over a shallow baking pan.  While the cake is still warm, pour the lemon syrup over the cake and allow it to soak in (I used a pastry brush to brush over the whole top of the cake).
Allow to cool (if you can manage it) to room temp.
Serves: 8-10