Today I made raspberry buttermilk scones and they are quite lovely, if a bit rustic …  They aren't overly sweet as I'm trying to cut down on my sugar intake so if you want a sweeter scone I would add a couple more tablespoons of sugar with the flour or even some chopped white chocolate.  I really wish I'd thought of that at the time actually!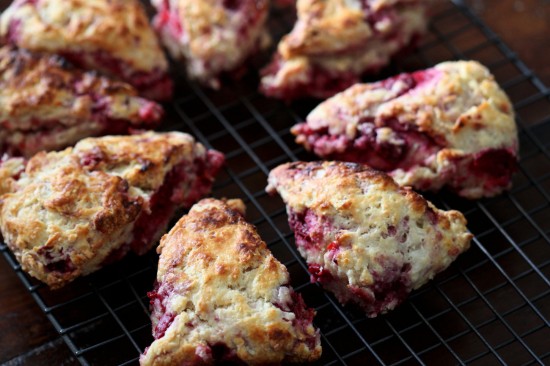 Recipe:
2 cups self raising flour
1-3 tablespoons raw caster sugar (to taste)
Pinch salt
60g cold unsalted butter, diced
1 cup raspberries or blueberries or 3/4 cup berries and 1/4 cup finely chopped white chocolate
3/4 cup buttermilk
1 teaspoon vanilla extract
Extra buttermilk, for brushing
1 tablespoon raw granulated sugar for sprinkling
Preheat oven to 220°C/200°C fan-forced.  Line a baking tray with baking paper.  Position oven rack in the top half of oven.
Sift flour, sugar and salt into a bowl.  Add butter.  Using fingertips, rub butter into flour mixture until mixture resembles fine breadcrumbs.  Add cup of fruit and/or chocolate and toss gently with flour mixture.  Add vanilla to buttermilk.
Make a well in centre of mixture.  Add buttermilk and vanilla.  Using a flat-bladed knife, stir until a sticky dough forms – add more buttermilk if weather is dry.  Turn out onto a lightly floured surface.  Knead gently until just smooth.
Pat dough into round with hand gently until 2cm thick.  Slice into 8 slices.
Place scones, just touching, on prepared tray.  Brush with buttermilk and sprinkle with extra sugar.  Bake for 20-23 minutes or until golden and hollow when tapped on top.
Makes: 8
Recipe adapted from taste