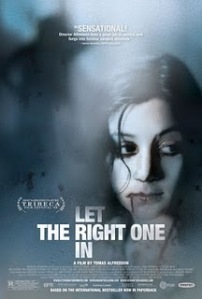 I was watching the At the movies tonight and they reviewed the remake of the Swedish 2008 movie (adaptation from the novel) Let the Right One In, called Let Me In.  It made me think of the original which I saw a few months back, at the height of vampire mania; True Blood, the Twilight saga movies etc, and thought how absolutely brilliant it was.
Although the remake doesn't look too bad, I couldn't bring myself to see it; firstly because I don't see the point in doing remakes when there's a perfectly good original to see and secondly, because I loved the original movie so much it would be a massive let down.  It's not often I love a movie these days, I might enjoy them, or like them but to really remember a movie so long after I've seen it is unusual.
The movie focuses on two 12 year old children in Stockholm in the 1980s; a female vampire who is befriended by a young boy who is her neighbour in the block of flats they live in.  The movie is cold, dark and very still at times which adds to the atmosphere without being cliched.  There are added storylines surrounding the close relationship between the two; a police investigation surrounding several local murders by a serial killer as well as the boy's problems with school yard bullies.
I'm not being a movie snob about True Blood or Twilight (nothing wrong with some sexy vampires after all) but Let the Right One In struck me as how it would be if there were vampires; they would be lonely, isolated, and desperate for companionship.  It focuses on the relationship between the two leads, without concentrating too much on the horror component although it's definitely there, in a darkly quiet way.
One thing I appreciate about European movies is that they show just enough, without being overt or using blatant images, then leave the rest up to your imagination.  I've always thought a person's imagination is the scariest thing of all and there were images in this movie which stayed with me for a long time.
I would like to recommend this movie but have to warn it does push boundaries somewhat and is rated R.  Although it's not blatant, the subject material and images might disturb some people.
Movie poster image of: Let the Right One In, 2008, Sweden,
EFTI